What the Digital Future Looks Like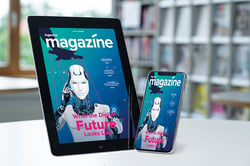 From Sharing Economy to Artificial Intelligence – networks came up trumps against lone fighters. Today, with digitalization all around us, sharing knowledge and information has become quite easy. Machines and processes are interconnected and thus enable smooth and forward-looking production. People network and thereby bundle their knowledge and creativity. Networks pave the way for more flexibility and innovation.
Artificial Intelligence Still Needs People
"AI can master complex tasks that the human brain cannot perform without the support of algorithms," says Professor Oliver Herkommer, CEO Ingenics AG. "Taking a long-term view, people will also remain indispensable wherever there is a need to be proactive in identifying quality and initiating advanced solutions."
Innovation LAB
Ingenics' Innovation LAB brings together IT specialists, technical experts and creative minds. They track down future trends and technological trends and develop individual solutions for customer projects. With creativity as an asset and a license to experiment they form an innovative think tank within the company.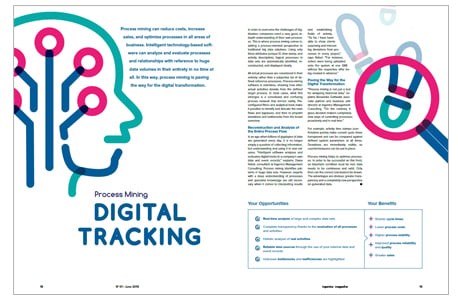 Process Mining
Process Mining analyzes and evaluates large and complex data sets in real-time. It adds a process-oriented perspective to traditional big data solutions. Processes become transparent and process safety and quality improve. Processes become transparent and process reliability and quality improve.
Also in this issue:
Digital Twin
How key technology of the future is revolutionizing processes along the value chain.
Hype or Hope?
Experts give their views on current issues in logistics and production. In this issue: IoT in logistics and blockchain.
Design Thinking
From the creative world into business reality: an ideal start to the digital transformation.
Guest Contribution
Dr. Daniel Dettling from the Zukunftsinstitut firmly believes that "the future belongs to the network economy."
Integral Model
In a practical workshop, companies learn how to manage change successfully throughout the digital transformation.
HAWE Hydraulik
The story of a factory that had to reinvent itself in part again and again – yet still stands on a field in the town of Kaufbeuren, Bavaria, just as always planned.
International Production Locations
Six arguments in favor of the USA as a production location.
Fab Lab
In the laboratory of endless possibility: co-working for people who love to experiment.